So thought that we should do a post about a Focus ST250 that we had in a few weeks which has also gathered some interest
Customer brought in his stunning  2013 Focus ST250 in for a Peron Stage 2 Tuning package.
Stock figures 250.6 Fly bhp and 355 nm Torque
Car was run on the dyno and then parts sourced by ourselves were fitted.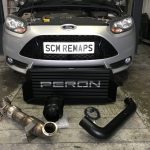 Peron Stage 2 programmer
Peron intercooler
Itg cold air induction kit
Scorpion sports cat down pipe.
Figures after on 97 Ron fuel 294 Fly Bhp and 455 Nm torque
If you are interested in having a quote for a Peron map for your Ford Focus or Fiesta
Contact us for details and costs
www.scm-remaps.co.uk